UPDATE!!! This car is sold. Please check back soon for more turnkeys for sale.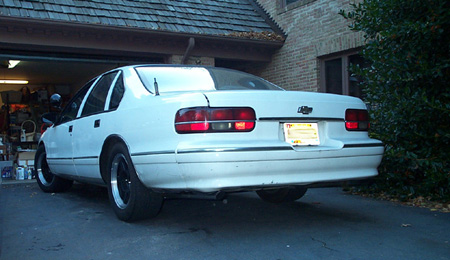 1995 Caprice 9C1

This car is BBHP #17, and has been Josh's personal car for the last 4+ years.
The car is currently being auctioned, ending on Thursday, Feb. 12. Click here to view the auction and bid!
This car has a ton of performance mods, and handles incredibly well. The 6 speed is a perfect combination with the heavily upgraded suspension. The engine is bone stock, but runs very strong.
The performance mods add up to over $7,000 in parts, and other upgrades (stereo, tune up) have cost over $1,000.
Performance modifications:
6 speed transmission - just rebuilt, less than 100 miles on it, with Viper steel 3/4 shift fork
New SPEC Stage 2 clutch, less than 100 miles on it
113,000 miles total, 8,000 of which are on the 6 speed conversion
4.10 rear gears, with all new OEM bearings and seals, ABS retained with custom reluctor
Dynotech high speed balanced driveshaft
Flowmaster cat-back exhaust system, with stainless ends
17" Black Impala wheels, Nitto Extreme 275/50/17 tires with good tread
13" front Wilwood brake rotors, with aluminum 4 piston calipers
J&M lower & adjustable upper rear control arms - +3/4" length, lower arms are custom made with spherical bearings on the chassis side, and polyurethane bushings on the axle side
HO Racing / Herb Adams front 1 3/8" and rear 1 1/2" anty-sway bars
Koni adjustable shocks
All new bushings and ball joints in the front suspension, with the larger size lower ball joints from the factory (5/8")
Impala SS springs (lowers the car by 1")
Metco driveshaft safety loop
Drop-in K&N air filter (in stock airbox) & 1LE intake elbow
Hurst Billet Plus Shifter with engraved & numbered BBHP shift knob
New Opti-spark, spark plugs, plug wires, and water pump installed @ 100,000 miles
XM Satellite Radio, Pioneer CD head unit with detachable face, and Polk 3-way 6"x9" speakers in rear (stock speakers in front)
Appearance:
White exterior with blue cloth interior
New carpet & floor mats just installed
Stain on back seat cushion
Interior is in great shape overall
Former police vehicle
Impala SS console converted for use with 6 speed, includes Corvette leather shift boot. Note - console is still in stock Impala gray color, while the rest of the interior is blue
Spotlight and hood ornament have been painted black
'91 Caprice tail lights
Issues:
Factory posi-traction is worn out
Holes in the body: roof, trunk, top edge of driver's side rear quarter panel, all from the police
Dents: oil can dent on lower part of passenger side rear door (see picture above), both driver's side doors slightly bumped in, minor ding on top edge of trunklid, minor dings on passenger side front fender, small ding on top of driver's side front fender
2" of paint peeled on passenger side rear quarter panel, caused by removal of police decals
Driver's side lock shows evidence of break in attempt
Air conditioning does not work. There is a leak in the system, but it's hidden from view, as the dye that was put in the system was not detected. The evaporator has been replaced, so it is most likely the condenser.
Small tear on headliner, over passenger side rear door
Cruise control was not installed in this car at the factory. However I have installed the factory controls in the turn signal lever, but have not installed the under hood module
Contact me with any questions, thanks!


| | | | |
| --- | --- | --- | --- |
| | · | T56 Group Purchase Coming Soon - get in now! | |
| | · | The BBHP Bulliten Board is up and running. Get kit info and tech support! Go Now | |
| | · | Sell your own parts in the garage sale! | |
| | · | We've added some pictures of the kit parts. Check it out. | |